Mondrian W5X
Samsung Compact Digital Cameras
This line of Ultra-Slim Digital Compact Camera Designs for 10 and 12MP was instrumental in Samsung's current line-up of products. This camera design employs a new method of breaking-up volumes using organic and soft transitions to create an unusual but delightful character. Transitional zones around the lens are treated as if they were pushing out from the inside.
Illumination
Samsung Illumination Concept
New vision of UX/UI integration, illuminating touchscreen functions, self portrait timing, combined with new Design Identity highlighting iconic look and ergonomics.
Samsung
Camera with Integral Stand
Finally a camera, which allows for self-portrait or to view images on the rear screen as digital picture viewer. The ring stand subtly integrates around the lens with a dual hinge design.
This camera design reduces the visual size and mass of the front bezel by offsetting it to create an asymmetrical layered design. The offset idea is repeated on the rear for integration of LCD and button navigation. The inner areas are offered in a range of colors.
The asymmetric design highlights touch points and improves ergonomics, while giving the camera a memorable appearance. Color and material changes give the design a thin, sleek profile.
Logitech
QuickCam Communicate STX Adjustable Clip
Logitech
SmartClip
The SmartClip is a universal camera mount that fits all of Logitech's digital cameras. This "first of its kind" camera mount, uses a three-point gravity-based design with Santoprene contact point. All of Logitech's current camera mounts still follow in essence this method. Its hinged arms allow it to be mounted on any flat screen monitor, notebook computer, CRT monitor, table top or shelf. Molded in ABS and Santoprene, the SmartClip is lightweight and portable.
Logitech
QuickCam Pro 3000
Logitech wanted to update the look of its popular Web camera line with the introduction of the QuickCam Pro 3000. The new design includes a uniquely shaped ABS/Santoprene base with a camera adjustment mechanism designed to withstand drop-test requirements.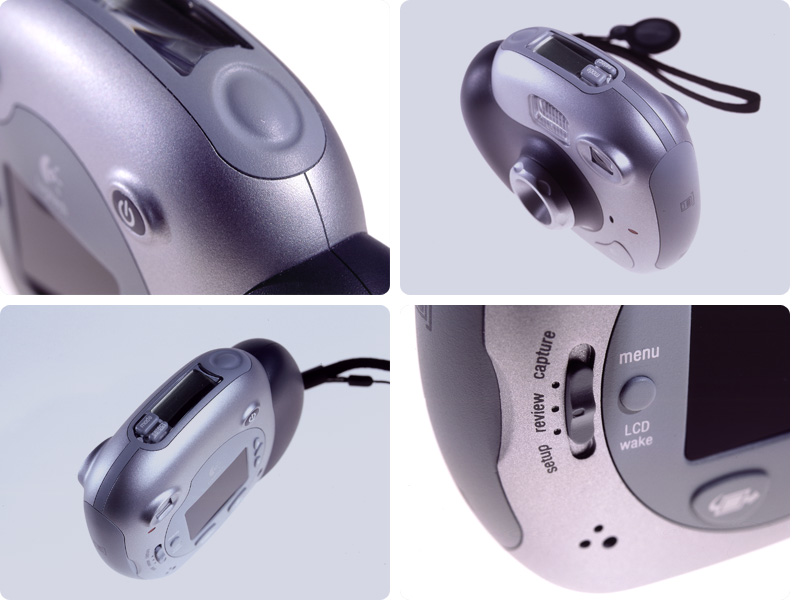 Logitech
ClickSmart
This Family of low, medium and high-end digital cameras are designed for handheld use and for use on top of PC monitors. This hybrid camera allows users to take photos and immediately upload them to their computer by simply docking the camera onto the connected base and pressing the QuickSync button.
Logitech WiLife
Digital Video Surveillance System (Concept)
This digital video surveillance system for indoor and outdoor use is easy to install and maintain. It captures and records high definition video and uses existing power lines in homes to minimize cabling. The simple, iconic designs blend easily into modern home interiors and redefine consumer surveillance equipment.