Lux
Samsung Electronics Lux Single Function Printer
Designed to compliment the Lux AiO touch sensitive control area and intuitive user feedback. The Lux Single Function Printer design comes without lid or with lid to be used as paper tray extension.
Lux AiO
Samsung Electronics Lux AiO
Complete redesign of an AiO with completly integral look. UX/UI feedback of live page number printing, clear color cartridge status, paper size and orientation rear projections through paper tray.
ACCENT
Samsung Electronics ACCENT Single-Function-Printer
Samsung Printer Design Elements - Animation
VERSA
Samsung Electronics VERSA
Entry level printers have suffered a loss of revenue do to reclining sales as users print less or upgrade to AiO products. This Entry-Printer-Innovation Program was looking at ways to revitalize Samsung's printing business by exploring ways to improve the overall printing experience. Entry level printers, often used in home or small office spaces bring their unique set of challenges, such as issues related to footprint and location, Samsung-branded toner replacement, access to paper input / output as well as status feedback and UI.
The user experience from set-up to first print, understanding WHY people print and why people may NOT print, was essential to understand in order to suggest encouragements for users to print. Out-of-box experience, competition, price point, part count, pain points and user needs were identified to provide solutions resulting in true value.
The result was VERSA, a desk clamp-like printer which can attach to the edge of any table to minimize footprint. The open support frame on top allows for different accessory tray inserts.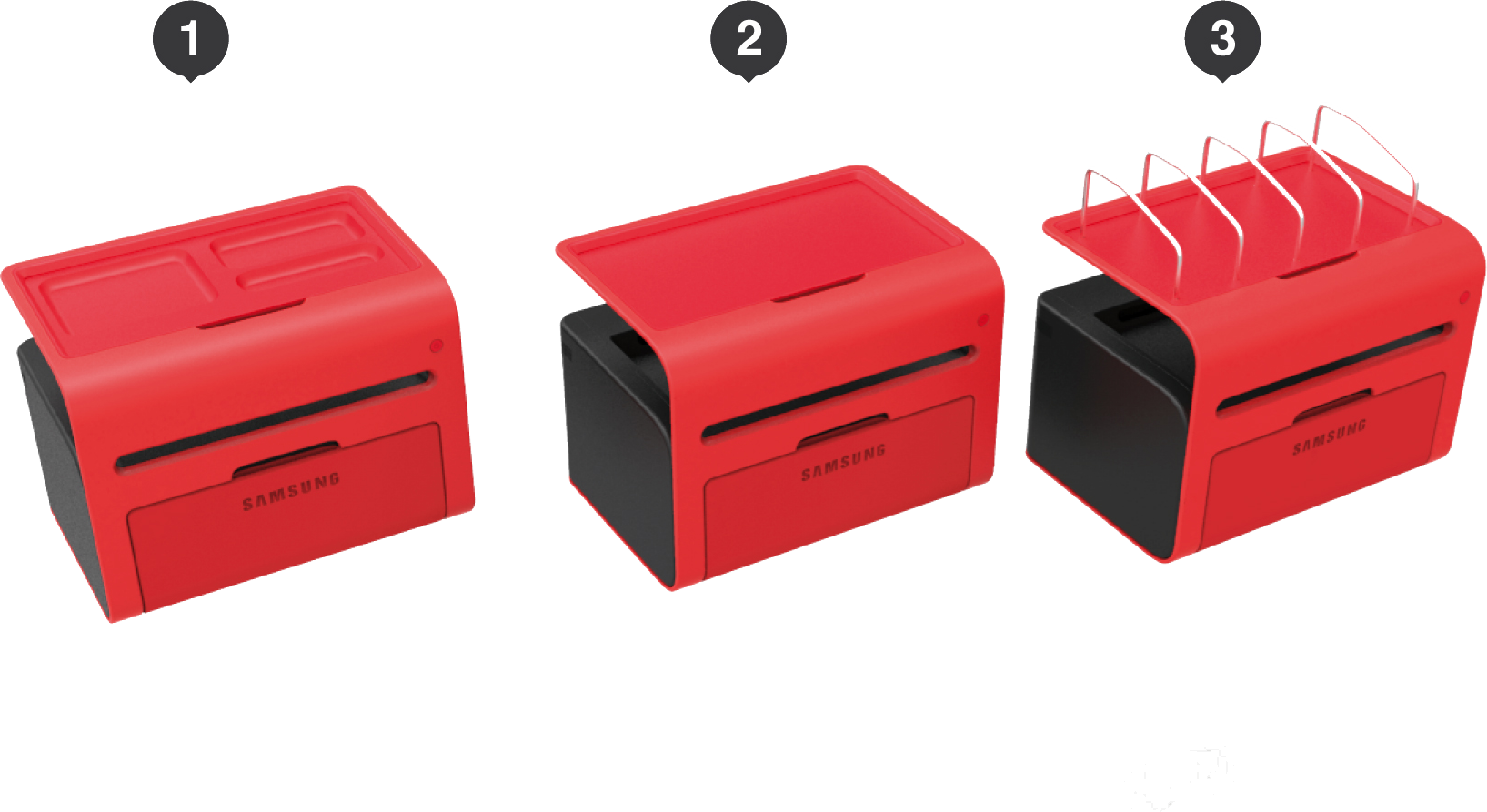 Accessory Tray Options
Tray vary in color and functionality:
1) Simple open tray for letter size papers, recycling of papers, or incoming or outgoing mail. 2) Tray with formed-in partitions for office supplies like pens, paper clips and 3M sticky pads. 3) Tray with formed chrome wire to hold envelops, stationary and binders.
Toner Packaging & New Business Model
Accessory trays can be changed and purchased bundled with toner replacements, providing a new business model to encourage users to buy Samsung branded toners.
The inner structure is made of Metal Stamping with injection molded skin around it. Partial plastic shown above.
Access for toner replacement is guaranteed through the open frame structure on top. The top output paper area slides towards the rear to provide access to the inside.
PRINT +
Samsung Electronics PRINT +
Entry-level printer with unique scanning function using a Smartphone, mountable on an integral arm above the printer.
The smart phone arm pivots up with a simple motion, locating the universal Smartphone grip exactly in the center above the document. Two integral white LED's automatically turn on when the arm reaches its upper position. A molded in detent keeps the arm in position. Scanning and printing functions are enabled through NFC pairing of Smartphone with printer.
The printer can be used in parallel while scanning with the top tray folded in.
The front and side views provide an asymmetric and recognizable look highlighting its unique scanning arm feature.
Documents to be scanned can simply be placed under a clear anti-glare acrylic sheet to keep documents in place while flattening out folds and wrinkles.
Hewlett Packard Single Function Printer
Development of a line of "life enrichment" products for Hewlett Packard. The goal was to give physical form to attributes like inventiveness, optimism, dynamism, confidence and quality.
Hewlett Packard All-In-One Printer
The objective was to develop a design "attitude" or "iconic expression" for a HP '06 hi-end AiO that would sustain HP's stronghold in the productivity market while providing customer appreciation value. Key Features are PRINT, FAX, SCAN, COPY, PHOTO/IMAGING like camera and Smart Media connectivity. With built in wireless, 2nd tray and adjustable control panel, this product is a compact powerhouse.